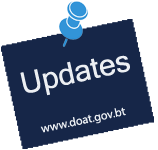 The Annual Performance Agreement(APA) was signed between Hon'ble Prime Minister ,Hon'ble Minister and Hon'ble Secretary,MoIC today in presence of five Department Heads and MoIC officials.Hon'ble Dasho Secretary then signed the APA with theBCAA, DITT, DoAT, DoIM, RSTA and Secretariat  Division Heads
Hon'ble Minister MoIC reported 96% progress for the 2016-2017 APA performance and thanked each individual for the hard work and the progress. Meanwhile Hon'ble Minister reminded and pledged that the MoIC must and shall  strive to achieve better performance in the 2017-2018 year.
Hon'ble PM in his address thanked MoIC and cited performance indicators such as good aviation service rendered by MoIC, well behaved drivers and traffic management,75% internet and broadband coverage ,107 G2C service delivery ,balanced media coverage, progress of Thimphu Techpark over the past years, proactive role played by the BtCIRT during the recent cyber attacks and 87% usage of google suite.
Hon'ble Secretary thanked Hon'ble PM for appreciating the performance of MoIC and pledged to perform better for the year 2017-2018.
APA signing was piloted in the year 2014-2015.