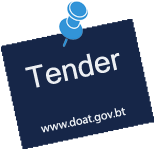 The Department of Air Transport invites  bids form eligible Bhutanese bidders for the hiring of Machineries
When and where to submit the tender documents? 
Last Date: On or before 11th September 2017 at 12.00 AM.
Place of submission:Account section
Late submission of bids and without bid security shall be subject to bid rejection.
The Standard Bidding Documents:
Contact Parson : Ms: Pelden Lhamo (08-272168)