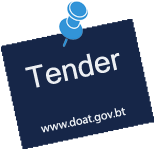 Addendum
This is to clarify the bidders intended to participate in the tender- Supply, installation, testing & commissioning of 500KVA DG set and warm air curtain at Department of Air Transport, Paro that the evaluation of DG set item and warm air curtain item will be evaluated as separate lot instead of single lot as interpreted by the bidding document. The item no. 1 & 2 under Price Schedule will be evaluated as one lot and item no. 3 & 4 under price schedule will be evaluated as another one lot.
The inconvenience caused is sincerely regretted.
………………………………………………………………………………………………………………..
*****With regards*****
Tashi Gyeltshen
Dy. Executive Engineer
Department of Air Transport
Paro
Contact No:08-272168