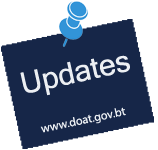 TERMS OF REFERENCE FOR BUMTHANG AIRPORT RESTAURANT
Background:
With increase in flight frequencies, Bumthang Airport is in dire need of a restaurant. Therefore the Department of Air Transport would like to call for interested firms in the construction and running of a restaurant at Bumthang Domestic Airport.
The building for the restaurant shall be constructed as per the architectural requirements mandated by the Municipal Office of Bumthang.
Scope of Work: 
The scope of this work is geared towards physical assessment and survey of allocated site at Bathpalathang, Bumthang Domestic Airport and preparation of design and drawings (both architectural and structural) and estimate for the same.
The following are required for the construction of restaurant at Bumthang Airport:
Site survey and site layout
Architectural drawings including sewerages and plumbing facilities in complete sets
Structural drawing with complete detailing
Electrical drawings complete with cable connection from nearby pole including transformer if required
Water supply with drawing and estimates
Restaurant menu and any additional services the participating firm is interested to provide
The cost for the activities above has to be borne by the participating firm. If selected, the participating firm shall pay for the land (annually) which shall be leased out to them for the restaurant's construction.
The restaurant will be run for a year (till 01/03/2019) after which the work will be tendered out again. If a new firm is chosen, then the previous restaurant runner may take down the structure and take the building materials.
A copy of the documents above mentioned shall be submitted to us in complete sets. A soft copy of the drawings and the estimates shall be submitted to the Director, Department of Air Transport.
Requirements
Interested participant is expected to be experienced in provision of professional services in a restaurant, especially to tourists.
Media of Submission of Deliverables
All deliverables to be submitted shall be submitted to the Director's office in hard and soft copies in at least two sets in English.
Duration of Work:
35 days from the date the work is awarded. 
Contact Person:
Tashi Lhamo, Airport Manager
03-631715 or 03631718