About Department
---
Department of Air Transport (DoAT) is a statutory department under the Ministry of Information and Communications of Royal Government of Bhutan, constituted by civil aviation act 2016. It came into existence on 24th April 2014 by bifurcating the erstwhile Department of Civil Aviation with a view to accelerate the integrated development, expansion and modernization of the Air Traffic Services, Passenger Terminals, Operational Areas and Cargo Facilities at the airports across the country. The department owns and maintains 4 airports including 3 Domestic airports. DOAT provides Air Navigation Services (ANS) at all airports / civil enclaves in the country, assigned and as designated by Bhutan Civil Aviation Authority (BCAA). Department is committed to its mandate of creating more airport infrastructure and navigation infrastructure across the length and breadth of the nation.

From its beginning with a handful of people in 1986, it has now bloomed into a competent technical organization with 9 technical sections and over 200 staffs. The Department has progressed from an organization totally reliant on external expertise to being fully staffed by national professionals.

STRUCTURE OF Department:
Department of Air Transport is headed by the senior post holder having the post of Director General or the Director, appointed by the RCSC through competitive post. Department of Air Transport comprises of five divisions, under the direct supervision of Head of the Department and Head of Airport Operation.

I. Directorate of DoAT
a) Administrative & Finance Division (AFD)
b) Airport Safety Management (ASM)
c) Domestic Airport Operation (DAO)
d) International Airport Operation (IAO)

II. Domestic Airport Operation (DAO)
a) Bumthang Domestic Airport
b) Gelephu Domestic Airport
c) Yonphula Domestic Airport

III. International Airport Operations (IAO)
a) Air Navigation Service Provider Division (ANSPD)
b) Airport Planning & Development Division (APDD)
c) Airport Service Division (ASD)

The Director of DoAT shall directly oversees the Administrative & Finance Division, Airport Safety & Quality Assurance Divisions & Domestic Airport Operations, however the Chief of Airport Operation who shall be directly responsibility to Director/Director General shall oversees the Airport Service Division, Air Navigation Service Division & Airport Development Division.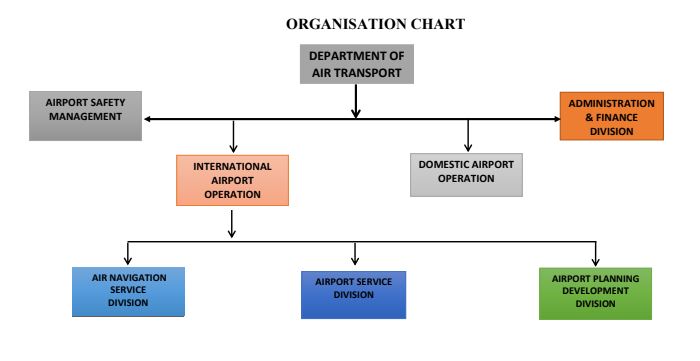 Organizational Chart of Department
---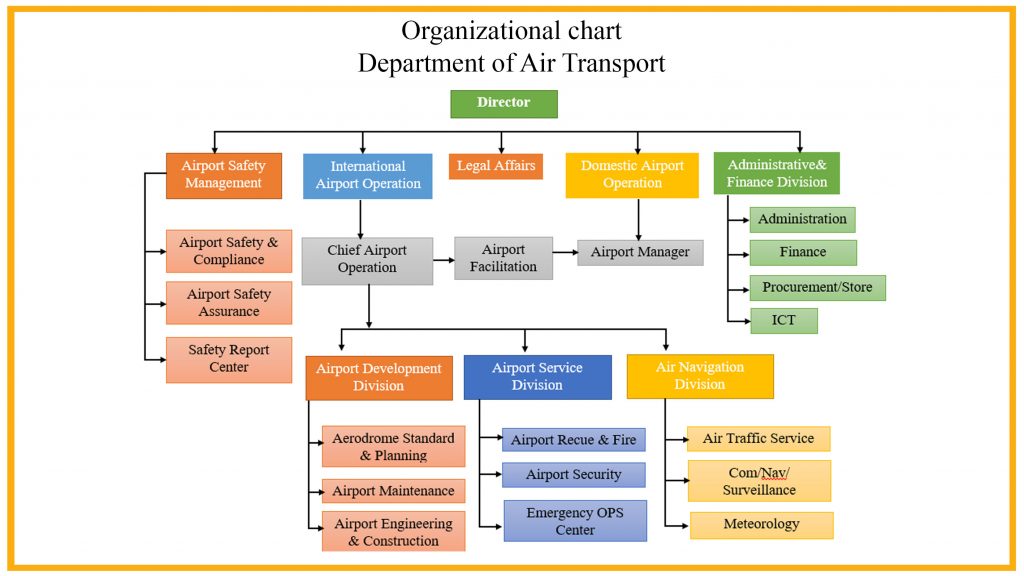 Functional Chart of Department



---