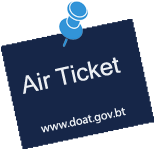 Sealed quotation are invited from the interested registered Travel/Air Ticketing Agent having valid trade license for the supply of air tickets as per the following:
| | | | |
| --- | --- | --- | --- |
| Date | From | To | Class |
| 19/08/2017 | Paro | Bangkok | Economy Class |
| 20/08/2017 | Bangkok | Singapore | Economy Class |
| 25/08/2017 | Singapore | Bangkok | Economy Class |
| 26/08/2017 | Bangkok | Paro | Economy Class |
Terms and Conditions
The rate should be quoted for full Economy class fare inclusive of all taxes if any and it should be shortest/direct route. Paro-Bangkok-Paro fare should be quoted separately.
Please do not quote "Scheme Rates". Scheme rates will not be evaluated.
Airline and seats must be confirmed while submitting the quotation
The details of the traveler (s) will be provided in the work order.
Any bids received by the purchaser after the deadline for submission of bids prescribed by the purchaser, will be declared "Late" and will be rejected and returned unopened to the bidder.
Sealed quotation marked as "Quotation for Air Ticket" should be submitted to the Director, DAT, Paro Airport on or before 7th August 2017 by 12 Noon and will be open on the same date at 2PM in presence of the bidder or their representative who chose to attend.
The rate should be quoted as per the sector given above and will be selected based on the lowest evaluated bid.
The successful bidder should submit the photocopy of every air ticket along with their invoices for payment.
The purchaser reserves every right to reject the bids if it is found not responsive to our terms and conditions and the decision of the tender committee will be final and binding.
In case the lowest bidder withdraws his/her bid then the second lowest bidder shall be asked to purchase and issue tickets and the difference amount shall be born by the lowest bidder.