Paro Airfield turns 54 year
On 24 October 1966, the foundation stone Paro airstrip was laid. After one year five months, on 23 March 1968, it was completed and inaugurated. The day is remembered as an important milestone in the aviation history of Bhutan. The airfield capable of landing a Dakota airplane was the first step in its history. The credit for putting the country on the world air map is given to His Majesty the Fourth Druk Gyalpo.
The Government of India generously provided all the necessary help for the construction of the airfield. In 1966, Bhutan first invited the Chief of Air Staff, Air Marshall Arjan Singh to lay the foundation stone for the construction. The Border Road Forces were entrusted with the important task and completed the construction in record time. On 23 March 1968, the Deputy Prime Minister of India, Shri Morarji Desai was invited to inaugurate the Paro airfield. The guest of honor flew in a special Indian Air Force aircraft. Dasho Tamji Jagar warmly received the esteemed guest with a Guard of Honour presented by the Royal Bhutan Army. The Deputy Prime Minister was accompanied by the Chief of Air Staff, Air Chief Marshal Arjan Singh DFC, Shri Kanti Lal Desai, Mr. Duggal Finance Secretary to the Government of India, Mr. Ashok Bhadkamkar of the External Affairs Ministry and other high Indian Officials and press reporters. The inauguration of the country's first airfield was conducted in Bhutanese fashion. The monks and other religious leaders started the colorful ceremony by offering prayers. This was followed by a spectacular show, where flowers were showered from a helicopter. People who were fortunate to witness the event recall the event as a memorable one and once in a lifetime event. (Article above by: Tshering Tashi)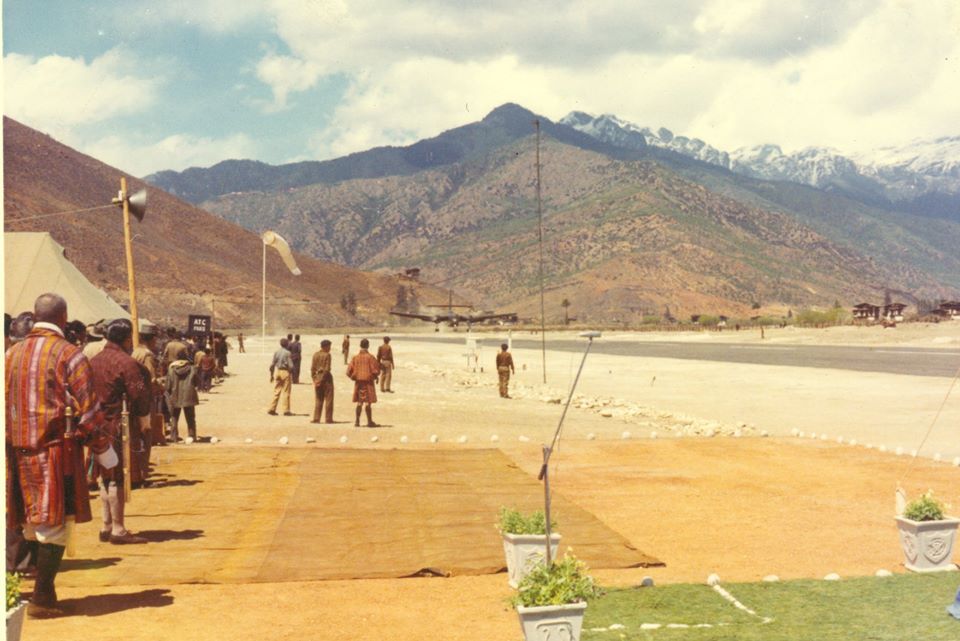 Brief History of Paro International Airport:
The idea of starting aviation was first floated in writing in 1952 when Bhutan proposed, "establishment of a fully equipped aerodrome at Punakha and the purchase of one Dakota aeroplane."
The construction of the Paro airfield was started in 1965.
On 23 March 1968, the airfield was constructed with about 1200 KM long and 25 meters wide and Druk air commenced operation with two German manufactured, 18 seaters 228-200 aircraft. The airline connected with Calcutta (India), Kathmandu (Nepal), and Dhaka (Bangladesh).
In 1984, the goverment built a small terminal with modern like pre-departure security checkpoint, arrival, departure and VIP lounge and Offices.
In 1988, the runway was extended to about 1700 KM and 30 meters wide and Druk Air added two British Aerospace BAe 146-100(72 seaters).
24th April 2015, Department of Air Transport (DoAT) was established. (DoAT) is a statutory department under the Ministry of Information and Communications of Royal Government of Bhutan, constituted by civil aviation act 2016.