Shortlisted Candidates List for the Communication Assistant-II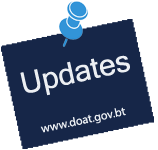 With reference to the vacancy announcement made on Feb 10,2017 for the post of Communication Assistant-II for Department of Air Transport, the Ministry of Information and Communications is pleased to announce the list of shortlisted candidates.
Please note the venue and timing for the selection interview as follows:
Venue: Conference Hall,MoIC,Thimphu.
Time 10.00AM
Date: 02 March 2017.
The shortlisted candidates must bring all the relevant original documents during the selection interview.