Sensitization Program on 12th Five Year Plan
Sensitization meeting on 12th Five Year Plan for Department of Air Transport  and Bhutan Civil Aviation Authority   held at Fire Conference Room, Aviation Rescue and Fire Fighting Station on 17th August 2017 at 9.30 Hrs by MoIC. All the section Heads from two department were presented with the 12th Five Year Plan's  template about how the budget should be proposed and the budget utilization.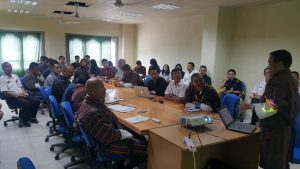 GNHC has endorsed and shared the Program Formulation Guidelines to all the PPDs. The Program formulation is the 2nd step for formulating the 12th plan after identification of NKRAs and AKRAs.
Program formulation is the crux of the FYP process that help us achieve AKRAs that will contribute to achieving NKRAs. The programme will cover implementing strategy, multi-year programme matrix, programme monitoring matrix, key collaborating partners and GNH
domain effect.
Contact Person: Ms. Dawa Dem ( Airport Manager)